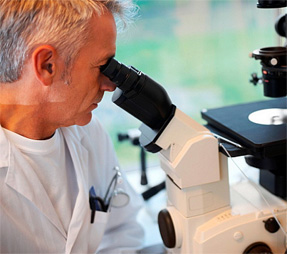 Antioxidant power is the most used claim in premium
facial care.
But no company meassures the antioxidant capacity of its final products.
Tergum is the first one to quantify and compare with
top antioxidants using the ORAC (Oxygen Radical Absorvance Capacity) assay. The ORAC value tells us that a given amount of the tested product has the same radical scavenging capacity as a known amount of a water-soluble form of vitamin E, to which the assay is standardized. Here you are the ORAC value of our final product compared to that of some ingredients used in other cosmetics:
Extra Virgin Olive Oil           300 – 1000 μM TE / 100 gr
Trans- Resveratrol                        3,000 μM TE / 100 gr
Ascorbic Acid (Vitamin C)           25,000 μM TE / 100 gr
Grape Seed Extract                   108,130 μM TE / 100 gr
Tergum Maximum serum   47,460,000 μM TE / 100 gr
Our facial serums have an unsurpassed antioxidant capacity. Being 1,800 times more powerful than Vitamin C is a fact. Above all if we take  on account that most cosmetics have a Vitamin C concentration that does not exceed 20% of the whole formula. Some companies are using Resveratrol, wich is not a particularly strong antioxidant but evoques live quality since it is obtained as a by-product of the wine industry. Maximum is 15,000 times more powerful than Resveratrol. There are also powerful polyphenols from the grape seed that are being used in cosmetics. Maximum is 400 times more powerful than Grape Seed Extract.
We are comparing a final product with ingredients. It is difficult to compare between products, since other brands do not test them like we do. Let us suppose that a cosmetic product has 20% of Grape Seed Extract in its formula (and that is a lot), then Maximum would be some 2,000 more powerful as antioxidant. Now it is easier to understand why other products do not give information regarding the actual antioxidant capacity of their cosmetics.
This superb antioxidant capacity conferes our serums beneficial properties for the skin, such as:
Effective protection against free radicals.
Increased blood flow and cell regeneration.
Anti-inflamatory effect.
Inhibits cell destruction.
You can check the study that whas conducted by a biomedical institute and that supports these claims in the following link:
Link to the scientific evidence:  IBIS STUDY
Further studies are showing that our facial serums provide SKIN WHITENING AND AGE SPOT REDUCTION.
This is how it works: our exclusive olive extract inhibits the formation of melanin (without not wished effects like the hypersensitization that can be caused by vitamin C) and at the same time it increases the level of glutathion (it induces the pheomelanine creation and protects the skin of the oxidative stress caused by UV radiation). As a result, using Maximum N and/or Maximum H reduces skin blemish (skin whitening effect) after 6 weeks.
Link to the study supporting the skin whitening effect: STUDY